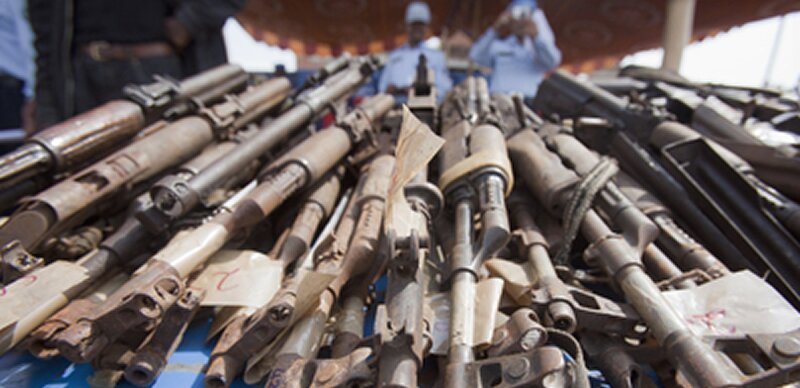 For many years West Africa has been the most unstable sub-region within the African continent. Over the last forty years most of the 15 member states of the Economic Community of West African States (ECOWAS) have experienced several military coups. The majority of the armed conflicts have taken place due to the movement of small arms and light weapons (SALW) throughout West Africa. The uncontrolled movement of these weapons has worsened these conflicts, which have been accompanied by destruction, untold hardship, poverty and underdevelopment. The widespread availability of small arms to abusive actors poses a threat of unprecedented magnitude to the region.


Problems remain

Even though a broad cross-section of West Africa is peaceful, trafficking in illegal arms has become a lucrative and dangerous game played by many parties in the region. Despite the ECOWAS Moratorium - armed crime, violence and conflict remain a reality across West Africa. Weapons-trafficking continues to threaten peace, because:
The easy availability and use of these weapons is still leading to tragic consequences: for combatants and for civilians. They are the ones who are losing their lives, their health, their families, their homes and their livelihoods
Most alarming is the growing number of state and non-state actors involved in the network of illegal transfers of light weaponry
Now West African societies have been armed and a culture of violence prevails in greater parts of the region
What are "small arms" and "light weapons"?
According to a UN panel of experts, "small arms" refer primarily to rifles, machine guns, hand grenades and other weapons used by an individual combatant. "Light weapons" are portable weapons designed for use by several persons serving as crew, such as heavy machine-guns, mortars, portable anti-tank guns, etc.

What makes them dangerous?
They are highly portable, easily concealed, simple to use, extremely lethal and possess legitimate military,
police and civilian uses. In West Africa, these weapons are cheap and widely available.

Although most conflicts have been officially terminated, small arms have remained – for instance in the post-conflict zones of Liberia, Mali, Niger, Senegal and Sierra Leone. This makes it easier for armed conflicts to recommence. Even when further combat is avoided, the easy availability of small arms means that they have become common tools of violence, used in criminal activities and ethnic and political rivalries.


About our campaign
Almost seven years ago FECCIWA started campaigning against small arms and light weapons because they are endangering peace in the region. To eliminate those weapons FECCIWA co-operates with decision-makers at the national and international level, to:
Assert UN sanctions
Reform the end-user certificate system
Improving control of ammunition imports in particular can help to stop light-weapons proliferation as can the comprehensive destruction of weapons collected through disarmament efforts
The illicit weapons trade in West Africa is increasingly transnational, and regional and international cooperation and support is required to combat it. Therefore FECCIWA is working together will all stakeholders to eliminate these weapons.


A Weapons-free West Africa - church leaders become peace-makers

Church leaders are aware that the proliferation of small arms and light weapons in West Africa is a big threat to global security and peace. They are campaigning against the proliferation of these lethal weapons. Church leaders demand effective stockpile management of national arms and ammunition to ensure proper control and accountability of states' arsenals. They are encouraging their governments to initiate and sustain processes that guarantee peace and security to all citizens. Church leaders are advocating dialogue instead of war as: the safest means of resolving tribal and ethnic disputes, to create a secure environment for development, promote and protect human rights and reduce crime and banditry acts in West Africa.


Our thanks

We would like to thank our supporters for making this campaign possible. Your funds are used carefully to implement programs promoting a weapons-free West Africa. We are grateful for your support and hope you will continue to provide assistance in the
future.


We particularly acknowledge the support of:

World Council of Churches, Geneva, Switzerland