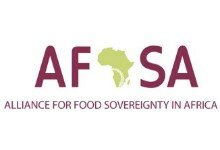 The ALLIANCE FOR FOOD SOVEREIGNTY IN AFRICA (AFSA) is a Pan African platform comprising networks and farmer organisations working in Africa including the African Biodiversity Network (ABN), Coalition for the Protection of African Genetic Heritage (COPAGEN), Comparing and Supporting Endogenous Development (COMPAS) Africa, Friends of the Earth- Africa, Indigenous Peoples of Africa Coordinating Committee (IPACC), Participatory Ecological Land Use Management (PELUM) Association, Eastern and Southern African Small Scale Farmers' Forum (ESAFF), La Via Campesina Africa, FAHAMU, World Neighbours, Network of Farmers' and Agricultural Producers' Organizations of West Africa (ROPPA), Community Knowledge Systems (CKS) and Plate forme Sous Régionale des Organisations Paysannes d'Afrique Centrale (PROPAC).
AFSA was launched at the UN Framework Convention on Climate Change (UNFCCC) Conference of Parties 17 (COP 17) in Durban, South Africa in December 2011. At the launch, AFSA released a report emphasizing that Food Sovereignty can cool the planet, while feeding the world and regenerating ecosystems.
AFSA members represent small holder farmers, pastoralists, hunter/gatherers, indigenous peoples, citizens and environmentalists from Africa who possess a strong voice that shapes policy on the continent in the area of community rights, family farming, promotion of traditional knowledge and knowledge systems, the environment and natural resource management. Thus, providing a forum to analyse, discuss issues, challenge policies and identify ways forward.